Meet Chris O'Brien
Chris is a lifelong horsewoman with over three decades of experience.  Training, instructing and showing at all levels, Chris is a member of SAHJA and USEF.  Proficiency in horsemanship coupled with an easy-going personality, Chris is the one-stop shop for hunters and hunt seat equitation at all levels.
Lessons
Offering beginner lessons thru advanced programs, from basic horsemanship to higher level show jumping.  We recognize horse owners and riders have varied goals so we customize lesson plans to suit the individual.
Training
From green-broke horses to the veteran competitor, we offer training programs of all levels.  In my thirty-plus years of experience, I have found that the horses themselves tell us what they need.
Sales
We can help you find the horse for you or assist you in selling your current mount.
Leases are also available.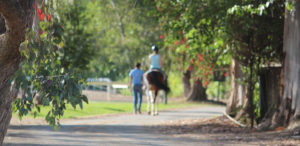 About Brookside Equestrian Park
Brookside has been in operation for twenty-five successful years, offering spacious stalls or paddocks available for boarders. Multiple rings with show footing including an indoor arena and dressage court, Brookside also offers cross-tied wash racks with hot water.
Show facilities include onsite Cafe and Pub, RV parking, permanent restrooms with shower stalls for exhibitors and private swimming pool access on warm days.